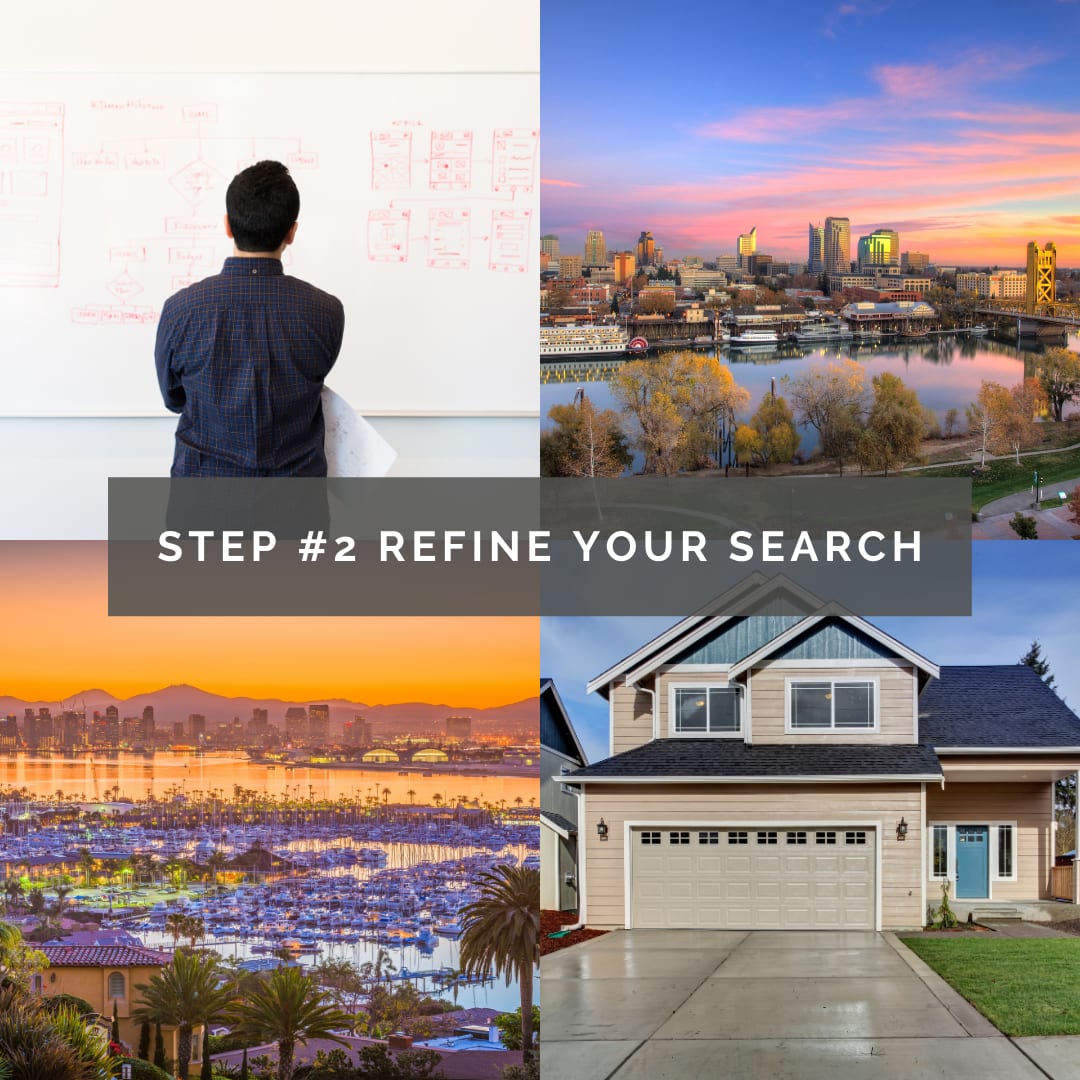 Refine your home search by determining your wants vs needs and exploring property pricing meeting your needs.
Searchable criteria are critical in filtering out as much as possible that doesn't meet what you're looking for. Everyone loves to use the terms "open floor plan," "big kitchen," etc. but what does that actually equate to in a searchable fashion, sometimes we cannot narrow down the searches enough and we need to go broader, which is why step #1 was so important so we can at a minimum focus on the right price points. Searchable terms we can use to hyper-focus your search would be - lot size, square footage, year built, HOA and no HOA, bedrooms, bathrooms, parking spaces, garage, laundry hookups, floors, stories, community amenities, single-family home, condo, townhome, duplex, pool, gated, etc. so completing step #1 and then determining what is a "need" vs a "want" is very important for us to help guide you within your search for what is attainable and not attainable in the market you're looking in.
We have the ability to look at "active" and "coming soon" status homes within the MLS, plus once you start working with us and narrow down the wants vs needs we actively prospect for homes not yet on the market in your desired areas to see if we can find an off-market deal for you.
Using one of our team members to help you purchase a home costs you "0" dollars, we do all the work for you and once you close on a property we are paid out of the seller's proceeds or from the bank directly if the property is a foreclosure.
HOA's - this will come up multiple times, determine if you'd like to purchase something with an HOA, and also relating to step #1 speaking with a lender how this affects what you qualify for. Keep in mind HOA's aka homeowners associations set the guidelines for how the community is operated, what improvements can be made to the property, often how utilities are billed and handled, and even as detailed as what type of dogs/cats/breeds/weight pets can be inside the property.
In conclusion, by completing step #1 speaking with a lender and step #2 of refining your home search you're well on your way to purchasing your property! One of the main differences that sets Vibe Team apart from other real estate teams is that we help save you time and money by combing the first 3 most important home purchase steps into one video meeting or in person, you choose! A team member and one of our preferred lenders are able to sit down with you to go through an initial financing conversation, discuss homes and locations that could match up, and then you can complete your initial loan application all in one meeting. Once you get finished with our initial meeting you'll have your initial loan document needs emailed to you by the lender, you get those documents submitted, and the full preapproval is sent out (if qualified) then we begin shopping for homes! If you have any questions and are ready to get started send us a message!